A slideshow
Being a software developer, I figured I'd roll my own slideshow software. In things to come, I already mentioned my picture-frame-slash-backup-machine, and I had already started coding some of the basic stuff.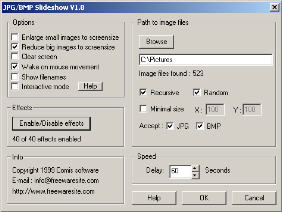 Some time later, however, I found a backup tool called SyncBack - not only was it free, but it worked like a charm needing little or no configuration. Since the backups were already taken care of, all that was left to create was a simple slideshow application. Given the numerous slideshow applications on the internet, I thought it would be better to spend some time looking for one rather than spending my time creating yet another one.
Even though it took me a while to find one that suited my needs, I was able to find a slideshow screensaver which was highly configurable. The software is freeware, and is simply called JPG/BMP Slideshow v1.8. It was created by Comis Software, and can freely be downloaded from FreewareSite, in their screensaver section.
Here are some of the options which I found very handy:
Ability to reduce/enlarge pictures to fit the screen
40 different transition effects
Wake on mouse movement - handy for remote control via RealVNC
Recursive path search - pictures organized in subfolders can all be displayed
Pictures can be shown in random order
Minimum size for pictures
... and several other features
In other words, more than enough for a nice picture frame!
Next page: eMule client »