Music Maestro!
I have always been a big music lover, and I have learned to appreciate a lot of different genres. As a result of this, I have a fairly large CD collection, and an enormous amount of digital music which I listen to as much as I can.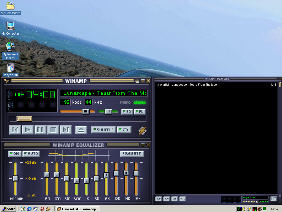 The idea of hooking up my computer to my stereo has always been in the back of my mind, but for some reason or other I never got to actually hooking them up. Surely this would prove to be an ideal opportunity.
My initial idea was to go wireless: add a wireless sending device to the laptop, and add a wireless receiver on the other end. Browsing the internet for available products and solutions, it turned out to be a rather expensive situation, though.
In the end, I just gave up on the wireless idea and I went for the cheapest way possible: 20 meters of high quality audio cable and a pair of audio jacks. Crude but efficient, as Seven Of Nine would say (yes, I am a Star Trek Voyager fan).
The choice of player was rather simple: WinAmp has been my favourite player for years.
And there you have it: a simple yet effective way of playing my digital music on my stereo. Because it is connected to my home network, I can also listen to online radio, or stream music over the internet in other forms.
Next page: Other uses »