The laptop
This particular laptop is an Acer Travelmate. The poor thing has been through a lot during mine and its many travels.
Despite the fact that the Acer was a very sturdy laptop, there were some components that did not seem to want to survive the test of time:
Apparently the screen has suffered a blow somewhere, causing it to no longer work properly. If you boot the laptop, you'll always see some kind of white shade on the screen. You then need to "break" the screen - grab hold of both corners, and apply force in opposite directions, until the screen looks normal again. After that, it continues to work properly. Strange, to say the least.
The keyboard was already showing some signs of wear and tear (a loose enter key and space bar, and some function keys which were heading in the same direction as those two), but after a small incident involving a late night coding session and a glass of water, the entire right half was rendered useless. No worries there, an external keyboard made the whole package slightly less easy to haul around, but it worked.
The battery turned out not to be as sturdy as the laptop: after a few years it refused to give more than half an hour of juice. Some time later that time started to drop drastically. A new battery offered solace, but not for long - in the end, the laptop would no longer function nor boot on a battery. Which left me hunting for outlets all the time, to continue my work.
And last but not least: the hard disk failed. At some point, it just no longer worked. That was the end of the hard disk, along with a few files I wasn't able to salvage, because they weren't backed up yet. Always make backups, folks!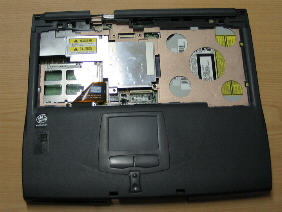 Apart from this last point of failure, I could still use the laptop: as long as the thing would continue to work I could keep on doing my job. But as soon as the hard disk went, I was no longer able to do anything with it. Considering the age and other problems of the laptop, it got tucked away somewhere in a closet.
Next page: Taking it apart »